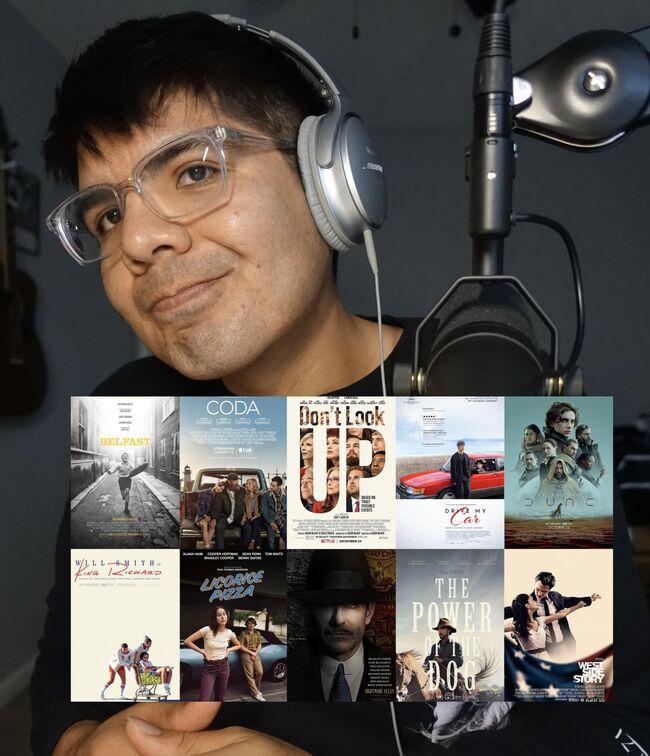 The Oscars are my favorite time of year. I love the history behind them and I believe they are a great representation of the evolution of film from year to year. But I also get why some people think they are a waste of time. The argument comes up every year that they are always "films no one has ever seen." I get that! They do feel a little too "artsy" at times, but I don't think that should keep us away from opening up our tastes.
As a movie lover, I see it both ways. I think the Oscars just add more weight to the criteria of what deserves to be nominated. While I can get just as much enjoyment out of a Marvel movie then I do a foreign language drama. I can see why one would be nominated and the other wouldn't. If we only let the most popular movies in every year, we'd just end up with the People's Choice awards and I don't see anyone fighting for those. But with all of that said, I made it a point every year to watch all of the Best Picture nominees and make my predictions based on how I think the academy will vote and what I think will win.
You can watch the Oscars on March 27, 2022 at 8/7pm CST on ABC. Here is the list of the major 2022 Oscar nominations:
Best Picture:
Belfast
CODA
Don't Look Up
Drive My Car
Dune
King Richard
Licorice Pizza
Nightmare Alley
The Power of the Dog **Mike's Pick to Win**
West Side Story
It's a really stacked category this year but I think it comes down to two movies: The Power of the Dog and King Richard. I think Power of The Dog is going to win the majority of the awards for the night. It's a powerful film that has earned so much critical acclaim already. While I find King Richard to be a more favorite pick with audiences…I think the academy will favor the style, acting and direction of The Power of the Dog. Personally, the story in King Richard resonated with me more.
I do think they should add ONE slot each year designated for the highest grossing movie every year. Whatever movie that is should get an automatic nomination! This would get more people interested in seeing who takes home the Oscar for Best Picture. Could you imagine if Spider-Man: No Way Home was nominated? That would be epic!
Best Director
Kenneth Branagh (Belfast)
Ryûsuke Hamaguchi (Drive My Car)
Paul Thomas Anderson (Licorice Pizza)
Jane Campion (The Power of the Dog) **Mike's Pick to Win**
Steven Spielberg (West Side Story)
Steven Spielberg has been nominated for Best Director in six different decades so it's hard to bet against him. But Power of the Dog would not have been the same without Jane Campion's vision. It's truly stellar the way she was able to make us care about such a unique and subtle story. The direction made this movie what it is.
Best Lead Actor
Javier Bardem (Being the Ricardos)
Benedict Cumberbatch (The Power of the Dog)
Andrew Garfield (Tick, Tick … Boom!)
Will Smith (King Richard) – **Mike's Pick to Win**
Denzel Washington (The Tragedy of Macbeth)
Andrew Garfield is the fan favorite here so I would love to see him win. Benedict Cumberbatch also gave a commanding performance with a character you loved to hate. But Will Smith gave the performance of his career bringing Richard Williams to life. I would love to see him finally win his first Academy Award.
Best Lead Actress
Jessica Chastain (The Eyes of Tammy Faye)
Olivia Colman (The Lost Daughter)
Penélope Cruz (Parallel Mothers)
Nicole Kidman (Being the Ricardos)
Kristen Stewart ("Spencer") **Mike's Pick to Win**
Nicole Kidman was amazing as Lucille Ball in Being the Ricardos. Everything from capturing the look of Lucy to her portraying both her on and off screen persona. I also believe Olivia Colman is under-appreciated for her work in The Lost Daughter. And it was great to watch the emotional journey Penélope Cruz's character went on in Parallel Mothers. But Kristen Stewart totally owned her role as Princess Diana in Spencer. I've been saying for some time now how much of a range she has as an actress but even this was unlike I've ever seen her before. While I didn't love Spencer as much as I did some of the other movies in this category. I think her performance stood out the most and was truly fantastic.
Best Supporting Actor
Ciarán Hinds (Belfast)
Troy Kotsur (CODA) **Mike's Pick to Win**
Jesse Plemons (The Power of the Dog)
J.K. Simmons (Being the Ricardos)
Kodi Smitt-McPhee (The Power of the Dog)
I think this is an easy one. Troy Kotsur made history becoming the first deaf male actor to earn this recognition. CODA is a very powerful, heartfelt and funny movie that I'm glad is being recognized. I think it would make for a very special moment in the award show to see Troy pick up this award. He's the true standout here.
Best Supporting Actress
Jessie Buckley (The Lost Daughter)
Ariana DeBose (West Side Story)
Judi Dench (Belfast)
Kirsten Dunst (The Power of the Dog)
Aunjanue Ellis (King Richard) **Mike's Pick to Win**
I loved seeing Kirsten Dunst back on the big screen. Her character was fantastic in Power of the Dog and would love to see her win her first Oscar. But Aunjanue Ellis in King Richard had such great chemistry with Will Smith. Their relationship on screen elevated the entire movie. I think she deserved to win here.
Best Original Screenplay
Belfast Kenneth (Branagh)
Don't Look Up (Adam McKay, David Sirota) **Mike's Pick to Win**
King Richard (Zach Baylin)
Licorice Pizza (Paul Thomas Anderson)
The Worst Person in the World (Eskil Vogt, Joachim Troer)
While Don't Look Up didn't live up to my expectations as much as I thought it would – I can't deny that out of every movie in this category I found it was the one that sparked the most conversations for the subject matter. That's all in the screenplay. Licorice Pizza would be my runner up pick.
Best Cinematography
Dune – **Mike's Pick to Win**
Nightmare Alley
The Power of the Dog
The Tragedy of Macbeth
West Side Story
Dune wasn't my favorite movie of 2021…probably not even in my Top 10. But I do appreciate the scale of the movie and how it was made for the big screen. I think The Power of the Dog has some truly beautiful scenes and really puts you into the feeling of being in the 1920s but Dune just accomplished more.
Best Animated Feature Film
Encanto **Mike's Pick to Win**
Flee
Luca
The Mitchells vs. the Machines
Raya and the Last Dragon
The Mitchells vs. the Machines was my personal favorite animated movie last year. But Encanto has so much buzz going into the Oscar and it's hard to bet against Disney. It's also a movie that people will continue to watch for years to come.
Best Costume Design
Cruella **Mike's Pick to Win**
Cyrano
Dune
Nightmare Alley
West Side Story
I rarely watch a movie and think "the costumes in this are amazing!" but I actually said that while watching Cruella. Not the coolest of awards to give away during an awards show…but they deserve it!
Best Original Song
Beyoncé – "Be Alive" (King Richard)
Sebastián Yatra – "Dos Oruguitas" (Encanto) Written by Lin Manuel Miranda
Van Morrison – "Down to Joy" (Belfast)
Billie Eilish – "No Time to Die" (No Time to Die) **Mike's Pick to Win**
Reba McEntire – "Somehow You Do" (Four Good Days)
Still surprised Enanto didn't submit "We Don't Talk About Bruno" for this category. So they are taking the L there. Adele won for "Skyfall" back in 2013 so I'm putting my money on another James Bond win and going with Billie Eilish's "No Time To Die." Solely on the fact if I had to listen to one song from this category in everyday life…it would be "No Time To Die."
Best International Feature Film
Drive My Car (Japan) **Mike's Pick to Win**
Flee (Denmark)
The Hand of God (Italy)
Lunana: A Yak in the Classroom (Bhutan)
The Worst Person in the World (Norway)
International Feature Film is one of my favorite categories. I like to explore filmmaking in other countries. And I believe a three hour drama should be awarded here so Drive My Car is my pick to win.
Best Visual Effects
Dune **Mike's Pick to Win**
Free Guy
No Time to Die
Shang-Chi and the Legend of the Ten Rings
Spider-Man: No Way Home
I would love to see Spider-Man: No Way Home pick up at least one Oscar but I think the scale of Dune is much greater and original. Justice for Spider-Man though!
Listen to this episode here! Looking for more movie reviews? Check out my podcast Movie Mike's Movie Podcast on iHeartRadio or wherever you get your podcasts!